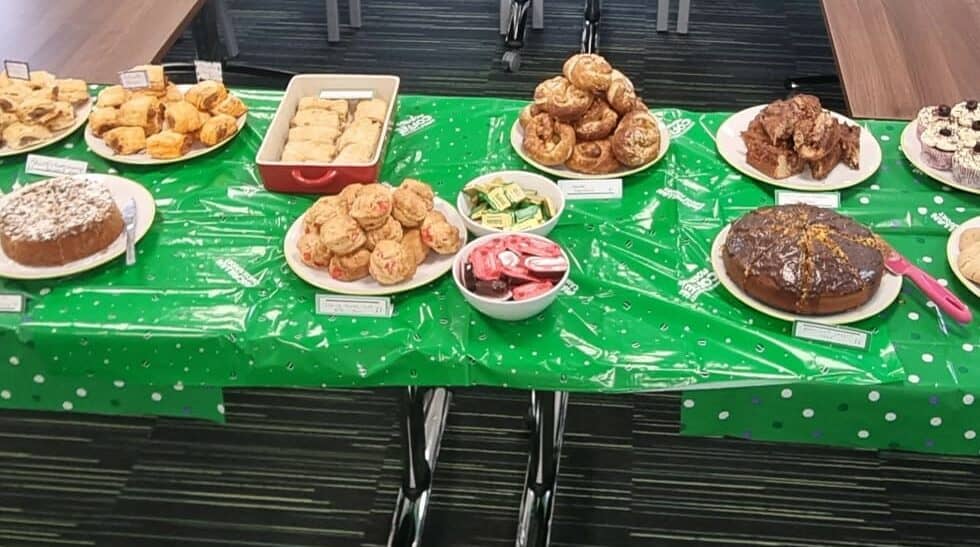 Following last year's successful return to hosting our annual Macmillan Coffee Morning, Print Image Network held yet another successful event this week. Amidst the aroma of freshly baked treats and the clinking of coffee cups, Print Image Network's Macmillan Coffee Morning was a sweet success. Peter Hampson was this year's bake-off champion, impressing both taste buds and judges with his delectable Chocolate Cheesecake.
The Macmillan Coffee Morning not only showcased the culinary talents of the Print Image Network team, but also fostered a sense of unity and generosity among the company's employees and our neighbours on Acorn Business Park. All came together for a good cause, sharing their love for baking and their commitment to making a difference in the lives of those affected by cancer.
Fernando's Brazilian carrot cake and Ashleigh's salted pretzels drew attention for their unique flavours. Chloe presented mouthwatering chocolate chip cookies, Dave showcased cherry scones with butter and jam, and Kelly wowed attendees with Mallon's award-winning sausage rolls. Other culinary delights that graced the coffee morning included:
• Alex's white chocolate and ginger cheesecake
• Craig's curly wurly raspberry tray bake
• Simon's spicy rouleau de saucisses
• Pauline's black forest cupcakes
• Steve's madeira cake
• John's apple cake with pecan nut streusel
Macmillan Cancer Support's mission is to provide practical, medical, and financial support to people affected by cancer and our host Ashleigh shared the amazing news that we managed to raise £224 this year.
Peter expressed his gratitude for the award, saying, "I'm thrilled to have been named the bake-off champion. It was a fun and rewarding experience, and I'm proud to have been a part of this event that supports such an important cause." Peter is already looking forward to being challenged for his bake-off title next year.