Print Image Network is one of 1000s of companies that are celebrating Investors in People during November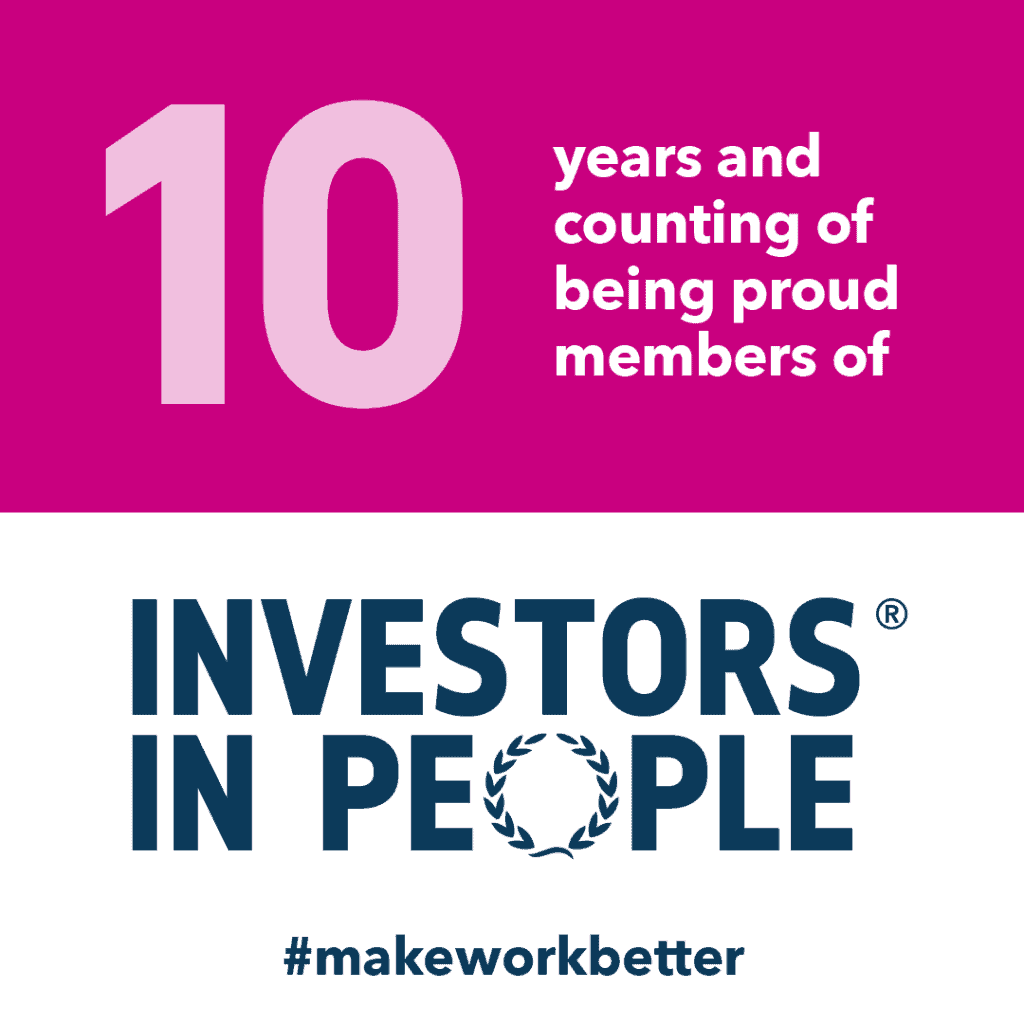 Investors in People has announced a month-long celebration of their 30th birthday and have invited Print Image Network to celebrate it with them!
The 30th birthday celebrations started on the 1st of November and will go through to the 30th.
It's an opportunity for everyone connected to the community interest company (CIC) to promote their purpose over profit statement – make work better.
Founded in 1991, their prestigious accreditations have been awarded to over 55,000 businesses in 66 countries in the past 30 years – with plenty more to come.
Print Image Network has held the Investor in People accreditation for 10 years and is currently working to the Gold Standard. 
Print Image Network's 10th year of Investing in People
As an SME, teamwork has always been very important to us, and our people are what has made our business a success.   Established in 2000, we have held the Investors in People accreditation for half the time we have been in business and have used it to make work better for our employees.
Stephen Power, Services Director and Investors in People champion said:
"We have used Investors in People to lead, support and develop our workforce. This has had a positive impact on the service we provide to our customers.  More recently, we have invested in the wellbeing of our staff, recognising that stress, depression, and anxiety (especially during the pandemic) is affecting millions of employees. For Print Image Network, it is an ethical priority to have a healthy workforce."
Over the last 10 years, Print Image Network has adopted many initiatives to help make work better for its staff. Training, engagement and communication, professional and personal development, promotion of work/life balance, and rewards and recognition are some of the ways it is doing this.
"As a leading provider of electoral print and mail, working with 25% of the country's local authorities, Print Image Network depends on the teamwork and shared experience of its staff to ensure millions of poll cards, postal votes, ballot papers, and canvass and registration forms are printed and mailed each year.  This could not be done if the team did not work as one."  Said John Foster, Managing Director.
Print Image Network will join other IiP accredited organisations throughout the month of November to celebrate the 30th birthday of Investors in People.
Five values, one aim - to provide the best service to our customers.
Our values journey:
In 2018, Print Image Network embarked on a project to confirm our core values. We believed that our values were best determined by those who embody them – our employees. Therefore, all employees were asked to participate in determining the company's five core values; values that we consider to be part of our DNA.
Through a series of surveys, our employees were invited to consider a list of principles they believed best represented our company and what we stand for. Following this exercise, we organised a number of collaborative workshops where employees were brought together to openly discuss the initial findings. From these exercises, our values were revealed.
Our five core values:
Throughout the exercises, there was consistency among employees as to what they believed we stood for, which were commitment, efficiency, professionalism, knowledge and trust.
With our five core values defined, we are now embarking on the journey to live and breathe them throughout the organisation. This includes having the visible throughout our offices, on our screen savers and acknowledging values-related behaviour and results with the introduction of our values awards.
"Our ambition is to create a company-wide common and shared understanding around our five core values, translating them into professional behaviours and entrenching them in the way we work with each other, customers, suppliers, partners, and stakeholders," says Stephen Power, Services Director and values ambassador.

Values, people and service
Of course, the ultimate satisfaction that comes with finally defining our values is how they benefit employees and customers. As a proud owner of the Investors in People (Silver) accreditation and the Cabinet Office's Customer Service Excellence standard, our people and our customers are what make our business. Through our investment in our employees, we aim to help them to feel valued, engaged and rewarded, which can only be beneficial to our customers.
"Each year, following our annual customer satisfaction survey, we are always humbled by the kind comments our customers provide. It is interesting to see the correlation between the feedback we receive from our customers and the values our employees believe to be true. It really shows that we are living our values and have been doing so for many years," says John Foster, Managing Director.
Print Image Network launched our core values to our local authority customers at the annual AEA Conference, 3rd-6th February 2019.
Print Image Network, the leading provider of electoral services to Local Authorities in the UK, has been awarded the Investors in People Standard for a fourth year, demonstrating its commitment to realising the potential of its people.
The company, which celebrated its 14th birthday in June 2014, is based in the North West and has a loyal customer base of Local Authorities which spans the length and breadth of the country.
Investors in People is the UK's leading accreditation for business improvement through people management, and provides a wealth of resources for businesses to innovate, improve and grow, with a focus on good people making great business.
Paul Devoy, Head of Investors in People, said: "Achieving the Investors in People Standard is something that any organisation should be truly proud of. Working with Investors in People inspires and enables leaders, managers and employees at all levels to build their skills, improve their performance and achieve their potential. We'd like to congratulate Print Image Network on its achievement."
Steve Burrows, Managing Director of Investors in People North of England said: "This is a fantastic achievement for Print Image Network and I would like to congratulate the team on its success. We believe that good people make a great business and as a proven organisational development framework, Investors in People is designed to help organisations and their people to realise potential, enhance performance and meet goals. With its accreditation success, Print Image Network is certainly working to realise their people potential."
Commenting on the award, Services Director at Print Image, Steve Power said: "For any business to grow during uncertain economic times is an achievement, Print Image Network has managed to achieve this because of its commitment to service excellence, which is a direct result of our staff." He continued, "Our employees are our most valuable asset and as a business we intend to continue to empower our workforce so that we can achieve our future goals."
For more information about Investors in People please visit www.investorsinpeople.co.uk.  For more information, please contact Clara Robinson on 0161 209 4800 or email clara@printimagenetwork.com
About Investors in People (IIP)
Investors in People makes people management excellence count. They exist to help businesses realise the potential of their people, improve standards and gain the accreditation to prove it.
Through the respected Standard, business insight and the IIP bank of tools and resources, organisations of all shapes and sizes can put their people first – and discover a brighter business future.
Over the last 20 years, IIP has helped more than 100,000 businesses around the world improve, using their Accreditation Framework to boost working culture, increase employee engagement and encourage game-changing leadership.
Investors in People is owned and managed by the UK Commission for Employment and Skills, an executive non-departmental public body of the Department for Business, Innovation and Skills.