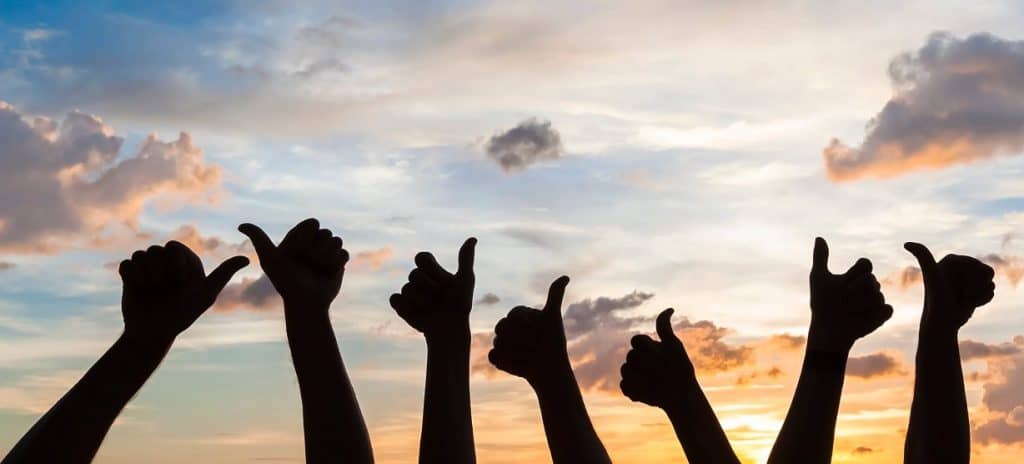 Following our third full 'Customer Service Excellence' assessment, it's a pass for Print Image Network
For electoral print and mail provider, Print Image Network, 2017 was a great year for customer service-related accreditations and recognition. We're pleased to report that we have continued this success into 2018.
Following our third 'full' assessment, we have maintained our Customer Service Excellence Standard for demonstrating evidence of exceptional customer service. The full assessment, which happens every three years, comprises a comprehensive submission to the assessor, followed by an onsite assessment, where staff are interviewed in relation to five key areas:-
Customer Insight
The Culture of the Organisation
Information & Access
Delivery
Timeliness & Quality of Service
Our recent pass follows our Investor's in People re-assessment in 2017, which saw us achieve the Silver Standard, exceeding the industry average in all nine of the performance indicators. The renewal of the Customer Service Excellence Standard further highlights our commitment to our customer-centric ethos.
Steve Power, Services Director and Print Image Network's Customer Service Excellence Ambassador, said of the assessment news "We are delighted that we have passed our third full assessment. Maintaining the Standard since 2012 is the result of hard work and commitment from the team. Our council customers trust us to help them through stressful and sometimes complex election periods, our latest pass confirms the procedures and systems we have in place allow us to provide trusted support and excellent service when customers most need it."

Customer Service Excellence Assessor, Michael Lynch, gave the following statement, "I have assessed Print Image Network Ltd for Customer Service Excellence several times and on my last visit I continued to be very impressed by their attention to detail and customer-centric focus. The team works very well together and as a result well-coordinated customer service is achieved."

He continued "I spoke to several customers during the visit and they were effervescent in their praise in relation to the service that they received from Print Image Network Ltd."
Print Image Network has many exciting initiatives planned for 2018 to further enhance the customer experience.
If you want to find out more about our Customer Service Excellence Standard or our Investors in People accreditation, please download our document 'Working Together' Investors in People and Customer Service Excellence: Our customer service journey >>
The Print Image Network team says goodbye to Blackpool and the AEA Conference
The team at Print Image Network would like to thank all the delegates who spent time at our stand, stand 3 at the AEA Conference 2018. It was great to see so many familiar faces, and the conference seemed to have a certain buzz about it this year.
Practical Counts Workshop
We were delighted to be asked to be a sponsor for the Practical Count Method workshops for the AEA Conference 2018, where we provided over 10,000 ballot papers, plus grass skirts and count sheets for the training.
The workshop focused on how to efficiently count multi-seat ballot papers in preparation for this year's elections.
Laura Lock, Training Manager at the AEA said "The AEA is very grateful for the support of Print Image Network in supplying documents for the Practical Count Methods workshop. The workshop was really well received with great feedback and delegates appreciating the chance to actually have a go – thanks to the materials supplied by Print Image Network."
Delegates said –
"A brilliant workshop, loved the interactive parts and actually getting the chance to use these count methods and learn more about them."
"This was a really good workshop providing genuine hands-on practical experience combined with a really great opportunity to share knowledge."
"Really interesting to look at the options available - and to try them."
Competition Winner
The winner of our prize draw – Laurent Perrier Champagne and Chocolate gift set was Susan Malmgrem, West Lancashire District Council. Thanks to everyone who completed our prize draw form at AEA Conference 2018.
We hope you all had safe trips home. Until the next time.
Electoral print specialist enhances its security against cyber attacks
As a leading electoral printing specialist and trusted supplier to no fewer than 80 local authorities across the UK, Print Image Network has to protect its company assets, IP and customer data, against common cyber threats.
Having held ISO 27001, the international standard for Information Security, for 5 years, information security processes are common practice at the North West based business. However, to further secure its systems, Print Image Network went through the Cyber Essentials application in April 2017 and is pleased to announce that it has passed.
What is Cyber Essentials?
Cyber Essentials is a government-backed cyber security certification scheme that sets out a good baseline of cyber security suitable for all organisations spanning all sectors. The scheme addresses five key controls that, when implemented correctly, can prevent around 80% of cyber-attacks.
Print Image Network implemented these five Cyber Essentials Controls to help it stay secure: -
Demonstrated a secure configuration of computers and network devices
Use boundary firewalls and internet gateways to block attackers and external threats
Manage strict access control and administrative privileges to staff
Showed evidence of software patching and licencing
Implementation of appropriate malware protection
Why Cyber Essentials?
Working with local authorities to print election stationery including postal votes, ballot papers and poll cards, means handling confidential data and information. For Print Image Network it is therefore crucial to eliminate risk wherever possible, as cyber attacks can cause expense and disruption, something the company will go to extreme lengths to avoid.
Managing Director, John Foster, says of the certification "The reason we applied for Cyber Essentials was to add an additional layer of security to our already robust security set-up. Knowing that, as a business, we are protected from the vast majority of common cyber attacks allows us to concentrate on our customers' needs with confidence."
Print Image Services Director and Customer Service Excellence ambassador, Stephen Power, added "Achieving the Cyber Essentials certification will help to further enhance customer trust and confidence in our organisation and our service. As a team we work extremely hard to put the customer first; the customer experience and security has to be at the heart of everything we do."
Included in the assessment was an external penetration test, which Print Image Network passed. The assessment was completed by IT Governance, the full scope included firewalls, routers, end user devices and hosted systems at the company's headquarters.
For more information please contact the Print Image Network team on: -
Following a recent assessment, Print Image Network achieves its third consecutive 'Compliance Plus' merit.
Recently, Print Image Network achieved Compliance Plus for the third time since receiving Customer Service Excellence Standard status. Awarded for excellence in Customer Insight, the company demonstrated greater understanding of its customers' needs and preferences, through customer liaison and contract management. The Compliance Plus merit was awarded after another fantastic year for the company, where it achieved a customer satisfaction award of 98%, following its annual customer survey.
The Customer Service Excellence Standard tests in great depth, areas that research has shown to be a priority for customers. Its main areas of focus include delivery, timeliness, information, professionalism and staff attitude. Emphasis is also placed on developing customer insight, understanding the user's experience and implementing robust measurement of service satisfaction.
Following the assessment visit, Michael Lynch BA (Hons) Cert.Ed. MIC CMC FIC, CSE Lead Assessor said "This has been an excellent surveillance visit for Print Image Network and the pre-assessment documentation which was sent to the Assessor was exemplar. Print Image Network use the CSE framework effectively and has seen the impact in terms of self-reflection, reviews of service and ensuring continuous improvement. The Assessor looks forward to next year in order to carry out its three year review."
As part of the surveillance visits the Customer Service Excellence assessor randomly contacted Print Image Network customers. There were many positive statements, including: -
'The best I have ever used.'
'We have a good working relationship which ultimately helps the end customer.'
'I have used several people before, but they have been excellent.'
'They are very helpful and sort things quickly.'
'We have a single point of contact which is great.'
To read our award news you can click the download here>>
Customers vote from a selection of charities via online voting, in the company's annual Christmas donation.
As part of its Corporate Social Responsibility activities, election print and mail provider, Print Image Network, has an annual commitment to donate to charities. Each year, the team at Print Image Network submits suggestions for charities it would like to support. At the end of last year, Print Image Network invited customers to vote for one of three charities, via its new online voting site, as an alternative to receiving a Christmas greeting card.
The charities included in the vote were Alzheimer's Society, Cancer Research and Help 4 Heroes. As a result of customer votes Print Image Network donated over £390 to the three charities. Charitable donations are just one part of Print Image Network's CSR policy and make up part of its community involvement.
Being ISO 9001 and 27001:13 compliant for a number of years, Print Image Network continually strives to keep up the high standards it has in relation to its current ISO Standards.
Print Image Network's new online voting site is one of the most secure, easy to use and visually pleasing platforms on the market. It is delivered to customers via the company's election and engagement brand, UK Engage, which offers impartial administrative services to membership organisations, social housing providers, NHS Foundation Trusts, cooperatives and many other types of organisations.
To find out more about Print Image Network, ISO Standards or its online voting and via the UK Engage brand, please contact Print Image Network:-
Tel: 0161 209 4800
Email: sales@printimagenetwork.com
The leading electoral printing specialist will help the Association of Electoral Administrators celebrate its 30th year at the 2017 AEA Conference
Print Image Network Ltd, one of the leading electoral printing specialists in the UK, will be attending the 2017 AEA Conference as sponsor, exhibitor and delegate, at the Hilton Metropole Hotel in Brighton from Sunday 5th February to Wednesday 8th February 2017.
In its 30th year the AEA will hold its annual conference ahead of another busy year of electoral activity. As usual the content will include helpful information and tools to support electoral administrators. Key electoral service suppliers, including Print Image Network, will be available in the exhibition area to help delegates find practical solutions to electoral issues; ensuring efficient and transparent processes.
Conference, as always, presents an ideal opportunity to share challenges and ideas. Print Image Network will be exhibiting at Stand 12, showcasing our electoral print and mail solutions for local elections, registration, Community Governance Reviews and Referenda and much more.
As always we will be on hand to discuss how your preparations are going for 2017 elections and registration, offering advice to both experienced and new electoral administrators alike. Furthermore, we are happy to support the event by sponsoring the delegate notebooks and pens for another year, especially in such prestigious year for the AEA - its 30th Anniversary.
We are looking forward to seeing all our council partners and non-partners at the 2017 AEA Conference. If you haven't experienced an election year or registration with Print Image Network, please come and visits us at Stand 12 and see why we have a customer satisfaction rating of 98%.
Read our customer satisfaction survey results here >>
Zero non-conformity ISO pass for electoral printing specialist, Print Image Network
As part of our ongoing commitment to information security and quality management, Print Image Network is pleased to announce that we have passed our annual audit for ISO 27001:2013 and ISO 9001, with zero non-conformities.
ISO 27001:2013 Information Security Management Standard provides a way of ensuring that a common set of policies, procedures and controls are in place to manage risks to information security. It provides a framework for the management of information security risks, which ensures we take into account legal and regulatory requirements.
The ISO 9001 certification is internationally recognised as the most established quality framework, focussed on increasing efficiencies, preventing errors and improving customer service.
Print Image Network takes information security and quality management very seriously. The company is committed to going above and beyond what the policies require to ensure its customers and all data is in the safest hands and that we continue to provide the best service possible.
The retention of both accreditations is crucial to Print Image Network as it continues to provide election printing for local councils, which have stringent internal procedures in relation to their supply chains.
Print Image Network's Office Manager, Pauline Selfe, said of the audit pass.
"Print Image Network has always been committed to the security of information and customer service. Having held ISO 27001 and ISO 9001 certification for four years, we have successfully passed our annual audit, with zero non-conformities. This has helped instil a higher level of confidence with our customers. Our security frameworks are constantly evolving and developing to ensure our service mirrors that required by our customers, the audit structure ensures we are on the right path."
Tel: 0161 209 4800
EU Referendum:  Thursday 23 June – a favourite contender?
With so much speculation about the date of the EU Referendum, it's little wonder that local authorities are confused about when to schedule their printing requirements for ballot papers, postal votes and poll cards.
Although talks with the European Council President failed to secure an early deal, reports suggest that further talks will prove crucial ahead of the EU Summit on 18-19 February 2016. Therefore, the EU Referendum could still happen as early as 23 June.
Despite the speculation, the date for the referendum remains unknown, with debate surrounding every possible option. News articles continue to present conflicting views. One report has suggested that the EU Referendum is not at the top of the agenda for EU leaders, eluding to the fact that a deal may not be reached later this month.
However, the Government's recent motion, which sets out some of the rules of the referendum i.e. the length of the campaign, funding and the timing of the count, plus on going discussions with the European Council President, strengthens reports that Thursday 23 June is still the favourite contender.
Whatever the outcome of the EU Summit during 18 -19 February, Print Image Network is advising local authorities to plan for the soonest possible eventuality. If you'd like to discuss electoral printing for the EU Referendum please contact us today on 0161 209 4800 or email sales@printimagenetwork.com
Alternatively, we will be at Stand 3 at the AEA Conference, 28 February – 2 March 2016, where our team will be happy to discuss the EU Referendum.
Print Image Network Ltd, election services and printing specialist, has retained the ISO 9001 certification and has been accredited against the new ISO 27001:2013 standard, demonstrating its commitment to quality and information security.
The company, which celebrated its 15th anniversary this year, is based in the North West and has a loyal customer base of local authorities which spans the length and breadth of the country.
Having held the standard since 2012, the company faced its first three-year re-assessment in August and is pleased to announce that it passed without a single 'non-conformance' – an achievement that only a small percentage companies assessed against the new standard actually achieve.
ISO 9001 is a Quality Management Standard which helps to create a more disciplined work environment and improve a company's overall performance, ensuring quality is truly embedded in its culture and operations. ISO 27001:2013 for Information Security Management certification is awarded to organisations that want to assess risk and prevent information security incidents, which is crucial to suppliers that work with local government contracts. Updated in 2013, Print Image Network had to make the transition from the old ISO27001:2005 standard to new ISO27001:2013 standard.
John Foster, Managing Director of Print Image Network, said: "Achieving the re-assessment of both ISO Standards is a fantastic achievement but we are particularly proud that we did so with no non-conformances. The team at Print Image Network works extremely hard to ensure we are conforming to the policies and procedures defined by ISO 9001:2008 & ISO 27001:2013 and we are particularly impressed with Print Image Network Supervisor, Craig Poyser, who worked extremely hard to prepare for the re-assessment and ensured the transition from the old to new 27001 Certification was implemented within our business."
The re-assessment marks the second celebration for the company, who earlier this year passed its three year re-assessment for the Customer Service Excellence Standard. Services Director, Stephen Power commented on the company's achievements in 2015. "Print Image Network has always tried to achieve the highest standards possible, whether that's quality-related, security-related or customer-related. We understand that in order to work with us our customers want to be confident that we operate in a way which makes them secure about our abilities as a supplier. We are really happy to have been recognised for all our hard work, most of all we want our customers to continue to see the benefits that achieving these certifications and accreditations brings."
Contact Print Image Network:
Tel: 0161 209 4800
Email: sales@printimagenetwork.
Print Image Network Ltd celebrates its 15th anniversary as one of the country's leading electoral services providers.
Fifteen years ago, Print Image Network co-founders John Foster and Stephen Power, combined their knowledge of the print industry and the world of elections to create the election printing specialist it is today. Print Image Network is a company focused on helping to solve the election complexities facing modern local authorities and organisations. As you can imagine, this has been no mean feat.
The challenges presented by the new Individual Electoral Registration system, which was introduced in 2014, plus the recent General election and local elections, have not been without certain challenges. Such significant changes in the electoral landscape have left suppliers of local authorities needing to react to the challenges with the same agility as councils themselves.
After three General elections the company is still going strong. It has seen many changes over the years; mostly legislative, although in more recent times other external factors have influenced the way elections are managed. Budget spending cuts, the decline of voter turnout and technological advancements (or rather restrictions thereof), have all led to challenges for councils and suppliers alike. So, as electoral staff throughout the UK took a short rest following 7th May, all are back to tackle this year's canvass.
A testament to the way Print Image Network has handled the elections this year is the encouraging results of its recent customer satisfaction surveys. To ensure continued commitment to its Customer Service Excellent standard, Print Image Network developed two customer surveys – one to collect customer opinions relating to IER and one to determine how we serviced customers during the May 2015 elections. The combined satisfaction level from respondents came to 94%.
Over the years Print Image Network has extended its range of services and markets. It also provides print services for any type of business and, with the introduction of PIPI, Print Image Promotions and Incentives, has been providing branded promotion products since 2009.
One of the biggest events in the Print Image timeline was in 2009, when a new brand was born – UK Engage. Taking its experience from within the elections arena, Print Image Network launched UK Engage, the company's brand to service the election needs of other types of organisations, both in the private and public sector. UK Engage, became more than an elections printer it became an elections services provider. As new staff members were employed and the company grew, so did its skill set and expertise it was able to offer.
Today, UK Engage offers organisations much more than a printing service – it is now able to offer a comprehensive service which includes consulting and advising organisations on their election processes, offering a range of services to improve engagement amongst members. The introduction of electronic voting and other 'online' solutions have equipped UK Engage to become a major contender in this field. Today, the brand runs internal elections, AGMs, training sessions and workshops for NHS foundation trusts, social housing providers, professional bodies, cooperatives, charities and Business Improvement Districts, amongst others.
John Foster and Stephen Power have built a company that has, over the past 15 years, gone from strength to strength. Co-founder Stephen Power had this to say about the anniversary. "Print Image Network has always been a forward thinking company, both brands are evolving and adapting to the market sectors in which they operate. We are well-prepared to meet the expectations our customers have for us in the future; we're delighted to celebrate 15 years in business and we are looking forward to the next 15!"
John Foster added, "2015 has been quite a year. No one would deny that, at times, it's been challenging for all involved but at the same time we have overcome challenges for all our customers to ultimately deliver successful elections. This year we have also retained our Customer Service Excellence standard, which means that we have been recognised as achieving excellent customer service. No other electoral services provider holds this standard and we are extremely proud that we've been able to maintain such high standards and pass our three-year assessment with flying colours."
Since the early days the company has substantially increased its workforce, increased its product and service portfolio to encompass all modern needs and its customer base is growing each month.