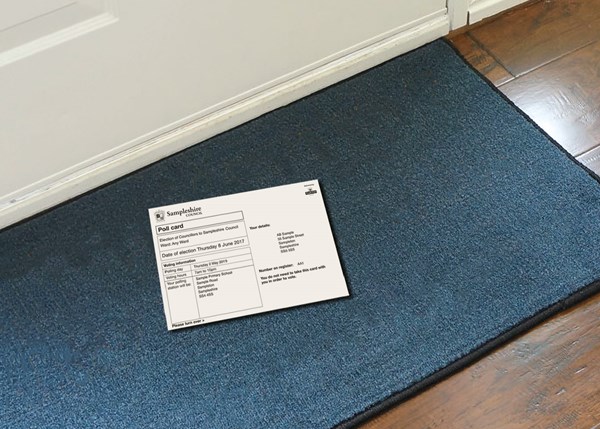 Since it was announced that Royal Mail's Mailmark service could no longer be used to mail poll cards, there has been lots of talk about Royal Mail's 'Poll Sort' service for poll cards mailings.
In essence, Poll Sort or PCMO (Poll Card Mailing Option), is similar to the previous Walksort product, where mail is sorted and bundled into postal walks. Its specification means electoral services providers must meet the criteria set out by Royal Mail in order to achieve 'Poll Sort' for the May polls.
The introduction of the service has provoked debate over the weight (grammage) of card and thickness (microns) of card to use. The team at Print Image Network has been assuring customers that we will carry out every process without changes to our usual procedure and we don't intend to alter previous methods of working for our customers.

John Foster, Managing Director, said of meeting the new Royal Mail criteria. "As one of the leading electoral print and mail specialists in the country, we have developed our Poll Card Mailing Options, which we will happily discuss with all councils, should they wish to contact the team to see how we intend to approach this for the May polls." He continued, "As always, we want to ensure that our customers are not inconvenienced in any way. Their key priority is having problem-free elections with a printer they can trust."
'Poll Sort' has been hotly debated by the Electoral Commission, the Cabinet Office and the Association for Electoral Administrators, in conjunction with the electoral print providers. The message that Print Image Network is keen to get over to customers ahead of the annual AEA Conference in Brighton, 3-7th February is that they will: -
Accept data as per normal (maps can still be incorporated if required)
Sort the data into the new required mailing order
Personalise the cards - meeting Electoral Commission guidance and Royal Mail criteria
Handle the cards to keep create the necessary order
Bundle/bag/present the cards to meet Royal Mail specifications
Comply with Royal Mail instructions for delivery or collection
To discuss Poll Card Mailing Options with the Print Image Team, please visit Stand 12 if you plan the visit the AEA Conference or call 0161 209 4800. Alternatively, you can email sales@printimagenetwork.com