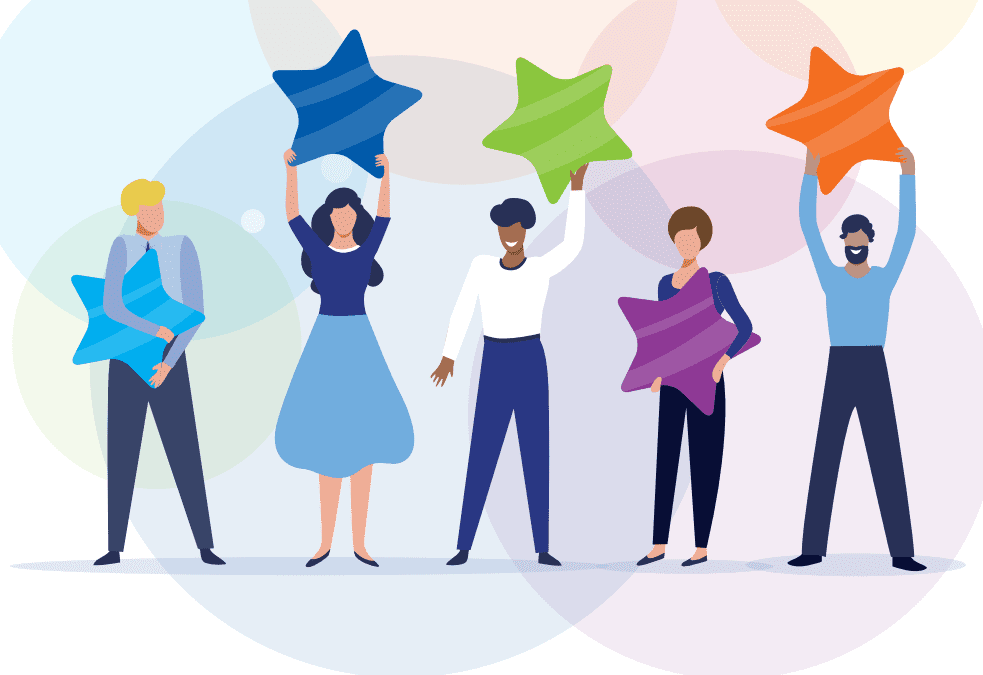 Print Image Network have held the Cabinet Office Customer Service Excellence Standard since 2012, and continually strive for and maintain the best customer service through continuous development, especially in the field of constantly changing election legislation. Impartial accreditation of our services is vital to helping us hone our products and services to their optimum. So, we are delighted to report that our headline, overall Customer Satisfaction score that will be reported to CSE is 98%.
The Print Image Network Customer Service Excellence survey is issued annually and this year, represents data collated from 24 local authorities. The survey covers key aspects of the products, services, and dedicated support that we provided to our customers for the May 2022 elections.
Results:
The results of the survey included:
Overall Impression: This all-encompassing question scored a maximum 100%
Account Manager Support: 99% with 5 out of the 6 categories achieving 100%
Poll Cards/Letters: 97% with 100% achieved for proofing timescales and live data schedule.
Postal Vote Packs: 97% with 100% attained for proofing timescales /accuracy and adherence to the timetable
Ballot Books: All areas assessed in this category scored the maximum 100%.
Accommodating Customer Needs: The outcome of this overall appraisal request was that respondents considered we could not have done any more to accommodate their Council's needs.
What our customers had to say:
Our customers were given the opportunity to provide their honest opinion about our ballot solutions in several open-ended questions. Here's a small selection of what they had to say:
"Very responsive and very pro-active compared to others. It was helpful to be able to proof ballot papers in advance of the close of nominations – something others haven't wanted us to do. Awareness of the pressures we are under and more flexible than other suppliers I've worked with."
"Delivered when promised. Excellent lines of communication. Excellent support."
Reliability, attention to detail - I feel safe awarding any election print requirement to Print Image Network - knowing that the work is in good hands and will be delivered to a high standard."
To establish how our products and services compare to other providers in the electoral printing sector, we include a benchmark score. This showed that 93% of our customers rated us as better or much better than other service providers they had used. This creditable score is further supported by the statistic that 100% of all respondents would recommend Print Image Network to a colleague or other organisation.
"Customer service is something which is embedded in our company culture and values. We pride ourselves on the level of customer support we achieve, however, it is only through the valuable feedback from our customers that we can continually assess and refine our services to ensure we meet expectations. Being impartially and independently assessed every year for the Customer Service Excellence Standard provides a foundation for continuous development across our entire business and strengthens the relationships we have with our clients..
With an overall, above target customer satisfaction score of 98%, we are extremely proud of our achievements. We are of course immensely grateful to our fantastic team for delivering such high standards and to our clients who took time to provide their feedback." Stephen Power – Print Image Network, Client Services Director.
You can view the Print Image Network customer satisfaction report and results in more detail here.
For more information about our growing electoral administration print and mail service, please contact us on 0161 209 4800 or email sales@printimagenetwork.com.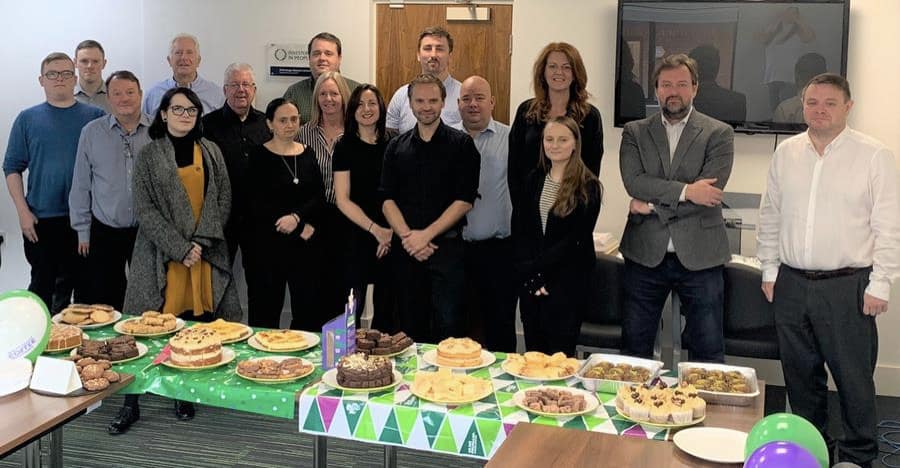 Print Image Network/UK Engage hosted another successful Macmillan Coffee Morning Wednesday 28th September 2022. The first one that we have held since 2019, which was pre-pandemic. And we've certainly made up for it!
There was lots of choice, ranging from sweet bakes to savoury pastries with Simon's 3 Saveurs de Rouleau de Saucisse. Thank you to the team for all their creative efforts in the bake off; choosing a winning recipe was tough as they were all delicious, but thankfully the voting process was extremely simple using UK Engage's secure online voting platform. The team cast their anonymous votes digitally, ranking all 15 entries in order of preference, this meant that the competition was fair and transparent. The winning entries were:
Ashleigh's coffee and walnut cupcakes
Si's Creme brulee cheesecake
Steve's chocolate brownies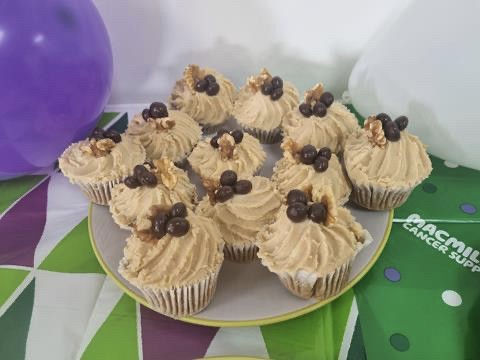 We are delighted to announce that we raised £231.30 for Macmillan Cancer support, which is fantastic and we also welcomed a number of visitors from companies around Acorn business park.
Well done to all involved and for helping to raise money for a wonderful cause that affects everybody in some way throughout their lives.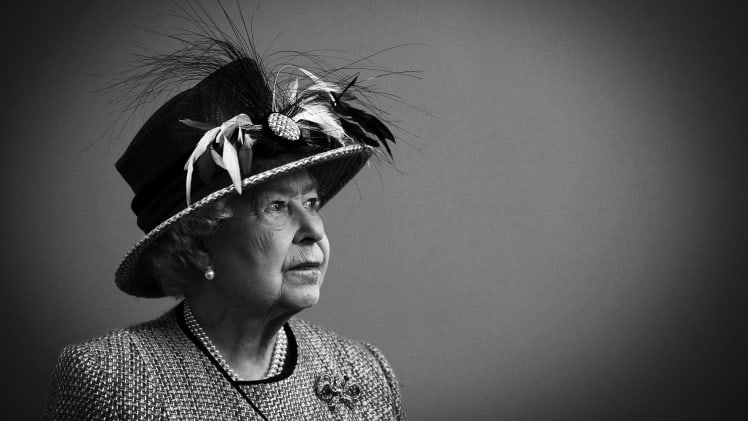 The passing of Her Majesty The Queen has left everybody at Print Image Network deeply saddened and we offer our warm wishes and greatest sympathies to King Charles III and the Royal Family.
We would also like to extend our support to all of our customers, colleagues and our team.
As the UK's longest reigning monarch, Head of the Commonwealth, Patron of more than 600 charities as well as a mother, grandmother and great grandmother, The Queen was a remarkable role model. 
Her Majesty's inciteful leadership, good humour, tireless work and unwavering public service helped smooth a way through the enormous social changes of the last 70years. We will be eternally thankful.
John Foster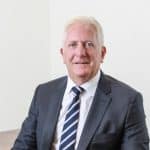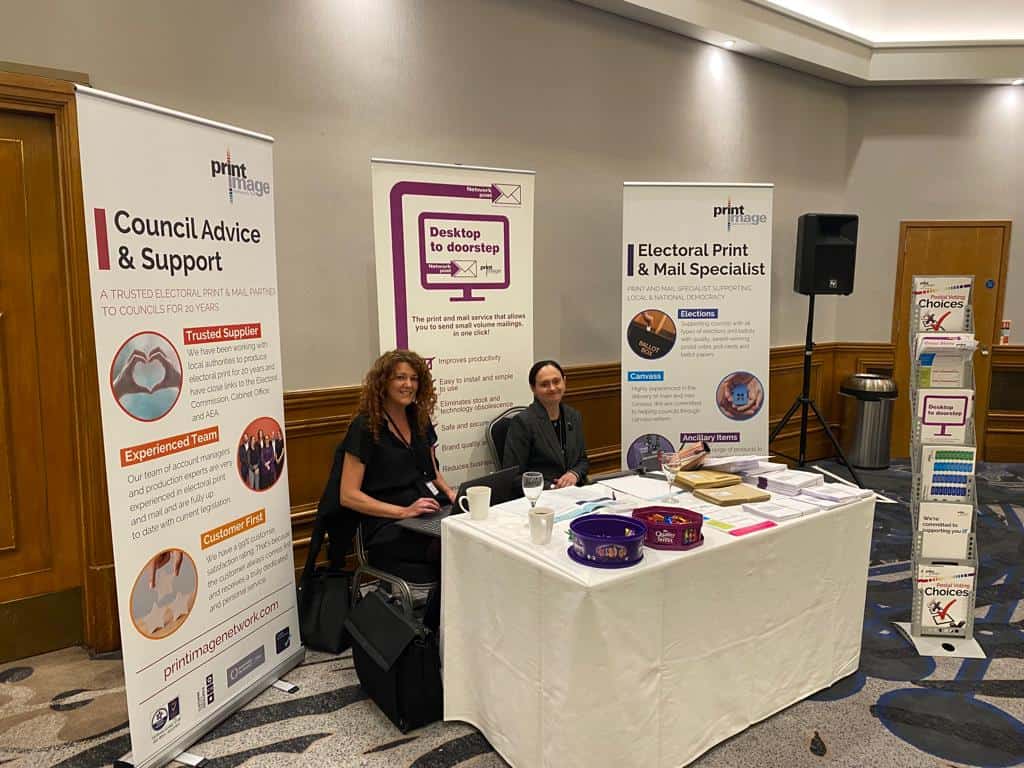 The Print Image Network team recently attended the AEA Elections Act 2022 Seminar. Being the first AEA face-to-face event since 2019, the seminar was extremely popular and our stand was very busy, having been visited by many of our customers and other local authorities; it was fantastic to see everybody together again for the first time since the COVID outbreak.
The one-day seminar was to provide information on changes to The Elections Act 2022, to show how the Government is working with the sector to deliver important changes to ensure democracy is secure, fair, modern, and transparent. The Elections Act 2022 introduces several measures to cut down on the potential for voter fraud in elections, including a new requirement for voters to show photographic identification at the polling station in Great Britain. In addition to commonly used photographic identifications being accepted at polling stations, an electoral identity document will be available for electors to apply for, which is known as the Voter Card.
The Government are committed to providing funding to local authorities to cover the additional costs occurring as a result of the changes arising from the Elections Act, to be provided under the New Burdens Doctrine as per the individual electoral registration and canvass reform.
Print Image Network are advanced with the knowledge required on the measures and changes arising from The Elections Act 2022, and we are able to support local authorities with our election and canvass print solutions, customer service excellence, unsurpassed capacity network and extensive range of services for local democracy.